At its most basic, an electric guitar need only be some wood, wire and a single pickup. But there are many ways and mods that can supercharge your sound or just make your Gibson guitar play more efficiently. Here are just a few…
Vibratos
You can have a vibrato retro-fitted to just about any guitar, but it can cost you a considerable amount by a pro repairer. So it's probably best to decide if you want a vibrato from the off, before you buy.
Many of the ES-series guitars from 1958-onwards came with a factory-fitted Bigsby vibrato. Although a classic design, Bigsbys have a love/hate reputation for some players. Bigsbys are certainly not great for "divebombing" solos but for dramatically wobbling chords and riffs in rock, jazz and country, they have a unique appeal. There are still quite a few production Gibsons with a Bigsby fitted – the 2014 Les Paul Recording, the Luther Dickinson ES-335, the Gibson Memphis ES-195, the Chris Cornell ES-335 and more.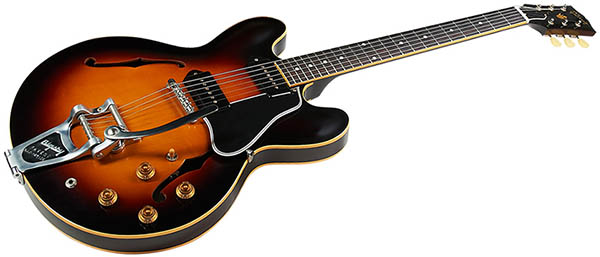 Signature artist Johnny A is a big fan of Bigsbys. "I just love Bigsbys," he tells Gibson.com. "I feel they are akin to a vocalist's vibrato. Totally expressive, but in a subtle way. Almost everything I do involves a Bigsby."
Gibson have their own vibrato designs, of course but – just like a Bigsby – some players originally found them erratic. No longer. 2014's 1961 Les Paul Tribute come with a stylish Deluxe Vibrato unit (commonly known as the "Sideways Vibrato" for its side-to-side action) comes with a totally re-engineered unit for smooth action with perfect pitch return. Or consider the SG Original, which comes with a Vibrola tailpiece with Lyre cover, or the blingin' Kirk Douglas SG which has a stunning Lyre vibrato in gold finish.
The Les Paul Axcess Standard is factory-fitted with a Floyd Rose tailpiece andR4 locking nut, which will handle the most flamboyant of whammy action. See also, the metal-friendly Gibson M-III with its black Floyd Rose hardware.
New Pickups!
Ever since Gibson's Seth Lover invented the "PAF" (Patent Applied For) humbucker back in the mid-1950s, there's been a market for replacement pickups. Why? Sometimes you just want a different tone on the same guitar. There are plenty of Gibson pickups, from exact recreations of past pickups to bespoke designs for AC/DC's Angus Young and Black Sabbath's Tony Iommi.
Here's a 101 on Gibson Humbuckers.
And it can really change your sound. The P-94R and P-94T are classic Gibson P-90-style single-coil pickups, but in a humbucker-size mounting. Or check out the Tuned Coil Tap technology for betting the best-of-both from 'Buckers and single-coil sounds.
Changing pickups can be a chore, as it used to involve soldering. No longer. Gibson's QuickConnect pickups are now on a number of select models, so swapping out between your favorite sounds has never been so easy. Only a screwdriver is required to remove the pickup mounting rings, then simply unplug the current pickup, put in your new one and play with a completely new core tone.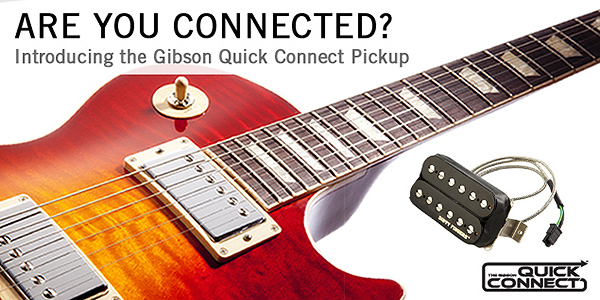 Accessorize!
Sometimes it's little things. New Speed or Top Hat knobs, a new different color pickguard or even just different pickup mounting rings. Or the TP-6 Stop Bar/Tailpiece, an easy retro-fit that allows micro-tuning at your guitar's bridge, as favoured by BB King. Have a look at the Gibson Store. It's quite easy to pimp your favorite Gibson axe.
Get a Gibson with Min-ETune™
One of the most talked-about guitar innovations in recent years, this discreet "robot tuning" system that will ensure you never have a studio or live-playing worry again. At the push of a few buttons you'll always be in perfect tune… and in numerous different tunings.
You can buy a Gibson USA-made 2014 SGM (with Min-ETune™) for $816 or a USA-made Gibson 2014 LPM (Min-ETune™) for $925, which is great value.

Given the price on its own, you should probably decide if you want Min-ETune technology first. But you probably will. It's a superb add-on, and if you want it included for an superb price see all the 2014 Gibson models fitted with Min-ETune or watch Gibson's Min-ETune demos.